What to Do When Your Husband Leaves You?
What to do when your husband leaves you following 8 steps you need to make when your husband leaves you + 3 ways how to start a new life.
A husband left a family and it seems that the usual life is ruined as well as everything else around.
How can you avoid making many mistakes at the pitch of your emotions and should you try to return him?
What to do when your husband leaves you?

No matter what your husband did and how the people around treated it, only you have a right to decide whether you will fight for him or let him go.
Firstly, let's discover what you actually want: whether you wish to get him back or no.
Answer yourself honestly to the following questions:
Was I satisfied with everything living with my husband?
What was I unsatisfied with?
What drawbacks does my husband have?
Do I want to go on living with him?
Do I truly love my husband with all my heart?
Will I learn how to live without him?
After you sincerely answered to all those questions, you are sure to have a moment when you must make a decision – do you need your husband for the future life or no?
In case your answer is positive, we'll go on coping with the problem.
3 main reasons why your husband left

Let's look closer at the main reasons why a husband can leave his family.
Reason 1 is the absence of sexual relationships.
If your marriage has everything – understanding, trust, support, reliability, common harmonic routine, children… but when you have no sexual relationships – your husband will leave you soon or you will.
This is what people usually call cheating.
Another spouse can be aware of cheating on the ground of the absence of sexual interactions and may even forgive him but it is the first bell that you must frankly talk about your relationships – both in bed and out of it.
Reason 2 is that a man could not cope with the responsibility.
This option has plenty of formulas – a man may be not mature enough to build such relationships, he did not have enough parties, he married because he felt he had to, he is bored by the routine… he wants freedom!
Romantics, infatuation, passion were changed by the working weekdays, routine and children and a man has an indeterminate problem of how to behave and what to do.
In such situation, a non-confident, infantile man makes a choice: to give up and leave or to stay and eventually become mature.
Reason 3 is that a man wants to be a man.
A man wants to fulfill his natural programs: the program of social acknowledgment and a program of success among women.
If a woman prevents his career movement, is jealous of every unknown woman or diminishes his pride – perhaps, a husband will leave.
What to do in the first turn when your husband leaves you?

8 steps you need to make when your husband leaves you:
Calm down and figure out what you feel.

The choice is all yours.

Regardless of what your husband did and how others estimated it, you must decide on your own what to do next.

Give yourself the honest answers to the questions of what was good in your marriage and what things you did not like, do you want to continue your family life and whether you love him so much.

Remember how he behaved and analyze it.

Then you'll be able to make a choice either to continue the relationships or completely break them.

Think on the question of whether you are able to forgive the unfaithfulness.

Regardless of the words and decisions, men and women often do not forgive such mistakes and they only increase the contradictions and turn the future life in the boring pastime (often for the children's sake).

Create a comfortable atmosphere for your children.

Do not try to hide from them what happened.

Nevertheless, you should not turn them into a shoulder to cry on.

Taking care of the children you must not try to avoid making the decisions.

Eventually, the health and well-being of your family depend on it.

In case you decided to return your husband, you must start acting right away.

Analyze all possible reasons which could have provoked the situation.

Try to measure your conclusions to your world-view, goals, and wishes.

Perhaps, you'll have to master the art of compromises to communicate with your husband in the future.

However, when you decide to start a new life without him, you should forgive him everything and thank for the happy moments of your common life.

File a divorce and look at your life with all optimism and smile you have.

Consider the current situation not as a punishment of the fate but as the offered wonderful opportunities to reach the set goals and get the full and happy life.
How to return your husband if he left you?
Well, if your husband left you but you made a decision to forgive and return him, you must work on it! Let's try to cope with it together:
No one will love you until you love yourself.

Every day you must look gorgeous and happy!

Make your apartment the pure heaven where one always wants to return.

Do not be the finished book.

Aside from the goal to return your husband, you must set another one and reach it doing the things which are not typical of you.

Be tender, cheerful and well-wishing when you meet your husband.

Do not talk too much because your zest is the sweet mysteriousness: your new and gorgeous image will tell him everything for you.

Make sure he discovers your successes from his friend.

Become a good friend to your husband and discuss the moment that you are friends now.

Share everything you have in your life and wonder about his new passions.

You will be always near but still inaccessible.

Let yourself be weak near him so that he felt strong with you.
The statistics show that 75% of men return to their wives, while the rest 25% dream about it.
How to start a new life when your husband leaves you?

In case you made up your mind to start a new life without an ex-husband and enjoy your freedom – go for it!
3 ways how to start a new life:
Forgive your husband for everything and thank for the happy time you had together.

You should not fall for the new serious relationships at once.

Do not be obsessed with one man, accept the courtship from all men and enjoy some freedom and men's attention.

Do not concentrate completely on your work or children.

Do the things you could not do when you were married.

Set an interesting goal and start reaching it in small steps right now.

Believe us, now you can afford everything!
What to do when your husband leaves you – start a new life with or without him.
If it happened, it was meant to be so in order to change everything for the better!
What to do when your husband leaves you? The pieces of advice from psychologists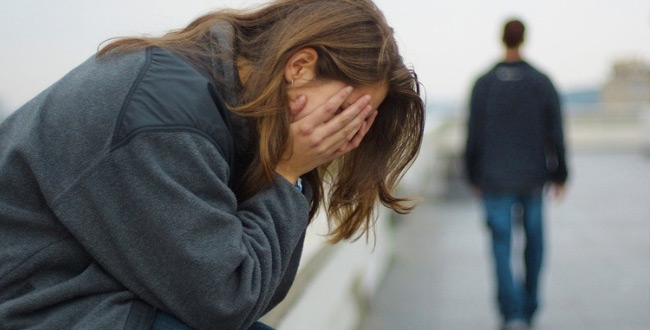 8 tips for those who were left by their spouses:
When you are alone, you should release all your pain.

If you have a wise soul mate or a smart close friend, you can pour your heart on them.

However, you should do it only if you are sure you will be understood properly.

After the pain subsided a little, you can try to find the reason why you are in such situation.

Try to assess the happened objectively, as if from the side.

You must figure out in cold blood why it happened, lest you repeated the same mistakes again.

Perhaps, your marriage survives a family crisis.

In such periods, men might leave to other women.

If it's true, you must have much patience and be extremely delicate in order to return him.

In order to get rid of the painful memories as fast as possible, you should make a list of things which irritated you.

Reread the list often and tell yourself – how great it is that another woman will have to live with it!

Get rid of all things which remind you of him.

Hide all the tools, photos, shirts, etc. Nevertheless, do not return these things.

This won't look good and will only emphasize your weakness.

People come together and break up, meet again and part again.

This is life, but if you lose faith in yourself, you'll become a shadow and no one will pay attention to you.

Do not only save your face but become perfect regardless of all things that happen!

Try to go out more often, make new acquaintances and surround yourself with interesting people.

Forget that a husband left you and go to the cinema, theaters and other events without him.

Meet your friends, go to the picnics with them or have fun at the parties.

Intensely do your work or find a hobby, set goals and move straight to them.

Improve your appearance and watch it became better and better.
What to do when your husband leaves you?
Perhaps, you'll understand later that when leaving your husband left the door open, behind which gathered plenty of possibilities for self-development.
It's quite possible that this step was extremely necessary as a reanimation or a shake for the faded and dull feelings.
Useful article? Do not miss the new!
Enter e-mail and receive new articles in mail