How to Straighten Hair without a Flat Iron?
5 ways how to straighten your hair without a flat iron by means of hairdryer, cosmetics, rollers, keratin or masks. Pick something that suits you the most.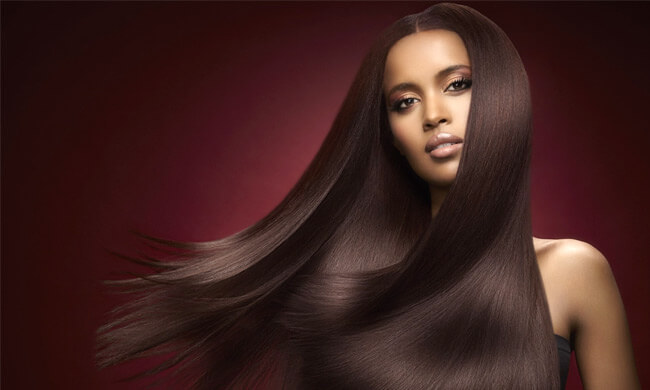 To gain light and flowing hair, you do not necessarily have to use a flat iron, because it quite often ruins hair, change its structure and completely dries it.
Regardless of the fact that the effect from using a flat iron or the so called straightener is mostly really impressive, the damage does not justify the sacrifice brought to the straightener.
Well, now we will learn how to cope without a flat iron and get straight and shiny hairdo!
In case you are looking for the ways how to straighten hair without a flat iron, read our article.
How to straighten hair without a flat iron: step-by-step

Straightening hair using a hairdryer is considered to be a thermal method, which brings less harm than a flat iron or straightener.
The effect of being straight is achieved by the flow of hot air on the wet locks, which are made straight by a big round hairbrush.
However, to reach the wanted result you should know a detailed instruction of how to do it without a straightener.
The required materials to straighten your hair without a flat iron by means of a dryer:
Shampoo
Conditioner
Towel
Thermal protective spray
Balm to straighten hair
Hairdryer
Plastic clips – 2
Round hairbrush
Step-by-step instruction on how to straighten hair with a hairdryer:
At first, wash your head with shampoo and apply conditioner.

After this, you should dry it a little by the towel.

Use thermal protective spray and pay special attention to the ends.
Take a little balm, which makes hair straight and does not require being washed away and spread it to the full length of your haircut.
To eliminate the excess water you should dry it a bit by a hairdryer at the low temperature.
Then you should divide it to locks in three zones of the same size and fix every part by a plastic clip.
Start straightening from the temporal region, directing the flow of hot air to every lock and straighten it with a big hairbrush.
If the length is longer than the shoulders, dry from the middle of the locks and then dry the roots.
Repeat the procedure of extension till your hair becomes dry and straight.
The final step will be to fix everything by a hairspray.
How to straighten your hair without a flat iron by means of cosmetics?

There are many ways how to straighten hair without a flat iron by means of various cosmetic products.
Every company, which produces cosmetics to make hair straight, has cosmetics, which allow women reach the perfect smoothness of the hairdo.
Such products will help you straighten your wavy locks without a straightener, but they cannot cope with natural curls.
Cosmetic products by means of which you are likely to straighten your hair avoiding a straightener
Creams or masks.

They are sold in small jars and have stiff consistency and pleasant texture.

You should apply them to the wet locks, passing from your roots to the ends using a comb, just like it is depicted at the photo.

Then you should make your hair straight by a hairdryer and a big hairbrush till it is styled.

Serums.

They can be stiff or liquid and are sold in dosed ampullas or jars with pump.

Serums are applied to the clean locks after washing and then you either dry it with a hairdryer or wait till it naturally gets dry.

Oils and oily liquids to straighten unwanted curls.

They are sold in small cans or bottles with pumps.

Such products have oily fat structure and can leave traces on the clothes.

They are mostly applied to the ends.

Straightening spays with a pump.

Sprays are applied to wet or dry hair according to the instruction, however, it's not advised to use them regularly.

The formula of these products contains silicone and other chemical compounds, which lead to fragility.

All these products can be recommended for those, who do not know how to straighten fringe without a flat iron or how to straighten the disobedient locks.

It's very easy to apply them as well as wash them out.
How to straighten your hair without a flat iron by means of rollers?

This is just another way how to straighten your hair without a straightener.
It will suit for the owners of the wavy and pored hair, which can be easily styled.
In order to straighten it, you'll need big Velcro hair rollers.
Due to their big volume they cannot curl, but will definitely straighten it and make it smooth.
Instruction on how to straighten hair without a flat iron by means of rollers:
Wash your head with straightening shampoo of high quality with hydrating effect for flat hair. It is likely to add shine and smoothness to the hairdo.
Apply the balm from the same series of products.
Then let the locks dry naturally a little.
Apply styling mousse to add volume.

Bend your head down, comb your hair with a wooden comb and dry it with a professional hairdryer, which prevents split ends and secures the effective but careful straightening.

Direct the air flow from the top to the bottom – the cells will close, and the locks will become silky and smooth.

Divide the whole hair in small locks and curl every one on a roller.
Dry the head again and keep the rollers for about an hour.
Carefully remove all rollers and fix the styling with a hairspray bending to save the volume at the roots.
Keratin can help you discover how to straighten your hair without a straightener

If everyday straightening is tiresome for you, we suggest you using the popular procedure, which is called Brazilian straightening.
In this case to achieve long-term impressive results the specialists apply the products which contain keratin.
After this procedure the hair is not only smooth, but it also acquires healthy and well-groomed appearance.
Keratin is a natural protein, which takes the biggest part of your hair structure.
Its characteristics are wonderful, that's why just one session can restore damaged locks and make wavy ones straight.
Depending on the length and the level of curliness, the procedure will take from two to three hours.
The advantages of keratin as a way how to straighten hair without a straightener:
When you dry your hair you do not need additional cosmetic products to straighten it.
Wet weather won't cause unexpected curls.
The effect lasts 2-3 months.
After each procedure the hair gets strength and healthy shine.
Keratin gets into each hair and restores its structure from inside.
How do you straighten hair without a straightener by means of homemade masks?

So that your hair looked smooth you should pamper it with creams and masks.
The thing is that oily structure, aside from visible weighing assists in cells' smoothing, making the hairstyle straight and shiny.
You may take coconut, olive or almond oil. Besides, there are plenty of other options how to avoid a straightener, which you can pick depending on the hair type.
To make a homemade oily mask you'll need:
To take enamel ware and heat there three tablespoons of oil (the amount mainly depends on the length and density).
To apply it thoroughly to the wavy hair along the length.
To create the so-called hothouse effect by wrapping it in the thin tape and a towel.
It is advised to make this mask late in the evening before going to bed and keep it all night long and remove it with shampoo only in the morning.
You should wash your head with shampoo and then rinse with cool water.
No matter which way of how to straighten your hair without a straightener you chose, first of all, you should mind the locks' health.
Chasing fashion and dreams one can easily bring them harm and constant damage and restoring them will take you much more.
Useful article? Do not miss the new!
Enter e-mail and receive new articles in mail