How to Ask for a Sponsorship?
How to ask for sponsorship learning 3 options of how to choose a sponsorship + 6 important tips on how to ask for a sponsorship in a letter.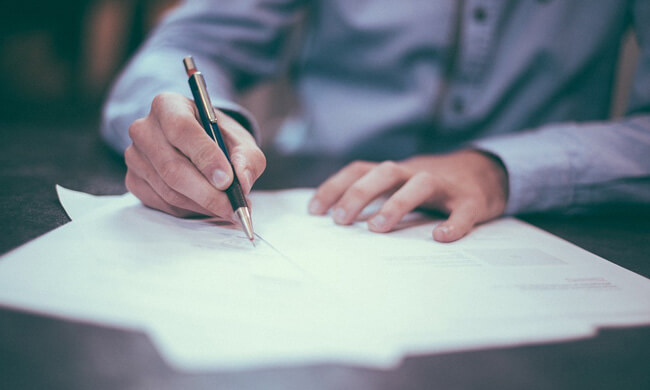 Finding ways to get a sponsor's support for your business, event or project may end in a mutually beneficial and successful cooperation or in a complete flop.
Nevertheless, one can significantly improve his chances for success when studying how to define the reliable potential financial backers properly and how to write a letter asking for sponsorship and spread it around.
How to ask for sponsorship is the topic of the today's article.
Whom you should ask for sponsorship?

Seek for the organizations which give money to the events and projects which are similar to yours.
Get the benefit from the experience of the organizations which held similar events before.
In case you are trying to get the financial backer for a one-time event such as racing, you must learn who held it before you and who performed as a financial backer.
It is likely to be a perfect starting point.
3 options of how to choose sponsorship:
When your event concerns the sports theme, you'd better wonder how to cooperate with Nike, Livestrong, Adidas and other sports-related companies.
Organizing a musical event or a concert, you can consider the local radio station, theme mass media and other companies which have the similar goals.
In case you plan to organize the event with food, you'd better try to get in touch with the huge food stores or the restaurant chain.
How to make a list of companies to ask for sponsorship?

The impressive and long menu is good.
However, you definitely won't ask all organizations and businessmen you know whether they will provide you with sponsorship.
You must include the potential funders as well as those who already helped you with your events or supported the similar ones.
In addition, this must be someone with whom you've got personal contact.
Study and analyze each company and person from this list.
Having much data about the potential financial backers is sure to be fruitful in the future.
Think how each potential backer will benefit from helping you with your event.
Understand the policy of the potential sponsors.
Having figured out their business models, goals, and the rest of indexes, you can prepare the convincing arguments and create a step-by-step strategy how to get sponsorship.
In this situation, you'd better rely on the local companies more than on the huge corporations such as Nike.

Though Nike definitely has a possibility to finance your project, this company receives hundreds of similar request every week.

A local radio station or sports shops, on the other hand, definitely get fewer requests.

If your targeted audience at least partially coincides, their participation in your event can bring you additional profit.

Try to create a competition between the potential funders.

If a sports shop in the western region is interested in your event, you should definitely mention it when talking to the owner of the shop in the eastern region.

Both of them are sure to understand the hint.
How to write a letter asking for sponsorship?

The average size of the letter is from 250 to 300 words which describe in details on what a sponsor will give his money, why you ask for his service and which benefit he is sure to get participating in this project.
6 important tips on how to ask for a sponsorship in a letter:
Remember that your CV influences a lot on whether a sponsor will study the documents further.

That's why it should not be conventional.

Make it personal and let the reader feel that you really spent some time learning everything about his company.

It will also show to the potential financial backer that you seriously treat your future cooperation and will stick to the made promises.

Do not forget to express gratitude for the time he devoted to reading this offer.

Your letter must be written in a friendly and at the same time professional language which reflects how serious and professional your intentions are.

Stick to the point.

Always keep in mind that you speak to the marketers, entrepreneurs, and businessmen but not to the Doctors or Science.

You should not use complicated phrases to look smart.

Give the most significant reasons, emphasize the advantages and stop there because everything must be short and clear.

Give reasons why you appeal to this very organization.

Show the maximum awareness about its activities, corporate and social responsibility and acknowledge the company's merits.

Emphasize that your project corresponds to the corporate policy of the organization in the sphere of maintaining the socially valuable projects and charity activities.

Underline that your targeted audience coincides or crosses paths.
How to ask for sponsorship and work on the several levels of sponsorship?
If you haven't taken care of it yet, you'd better develop a budget and define what you want to get from the financial backer.
Create several levels which can be suitable for the potential funders and explain that every one of them presupposes and why you need finances to cover each of them.

Explain to your partner why he needs it.

Win the sponsor's heart over with the knowledge about his business model, targeted audience and goals.

Make clear what advantages he'll get if he decides to take part in your project.

You can use such arguments as heavy media coverage or other possibilities to advertise themselves.

Include in the CV the call for an action.

It can be in the form one needs to fill in and send you or simply the contact information with the request to contact you for the further discussion.

Be certain a sponsor has to do something to continue the cooperation.

Keep the ball on his side of the field.

Meantime, the simpler is the action the higher is the possibility you'll get a positive answer.
How to send the letters asking for sponsorship?

3 conditions you need to keep in mind asking for sponsorship:
Do not use the unstructured approach.

It's really simple to send as many letters as possible to the potential funders and using the primitive newsletter which has the aim of getting the maximum number of the receivers.

This is not right and you should approach it smartly and send the letters only to those companies with which you plan to cooperate.

Send the potential sponsors from your list the personalized letters.

The individual approach to the documents and all correspondence, every email letter you send will also be extremely helpful.

If you are lazy to do it, your project is unlikely to get the required money.

You must definitely call back.

Wait for a couple of days and dial everyone to whom you send your letters.

Ask whether they got the letters and if they wish to ask you anything.

Double-check if they know how to get in touch with you in case they made a decision to take part in it.

Use the individual approach to every potential sponsor.

If one company is ready to give you $10 000 and another one offers you only a couple of hundreds, how will you reflect it in the communication with them?

The difference has to be obvious and rather serious, starting from how you demonstrate their activities to the society and finishing with how you communicate with them over the phone.

Encourage the generosity and keep them on the hook at the same time.
How to ask for sponsorship?
Firstly, you should define the potential sponsors right now.
Perhaps, you'll be made to act under the time pressure.
The more time you've got to find the sponsors the better.
The perfect situation is to have three or even four months to attract sponsor's money.
Useful article? Do not miss the new!
Enter e-mail and receive new articles in mail